Polyvinyl chloride resin S-1300
Product Detail
Product Tags
Polyvinyl chloride (PVC) resin is a high polymer produced by the polymerization of ethylene. Suspension polymerization is used as the common industrial polymerization method. It is usually a solid that can be softened by heating. When heated, it usually has a temperature range of melting or softening, and can be in a plastic flow state under the action of external forces. The factory can add plasticizer or other auxiliaries to meet the production requirements according to the performance requirements of plastic products.
Grade S-1300 resin is mainly used in wire and cable, electrical insulating materials, cable sheathing, high-strength film products, artificial leather, soft boards and sheets, all-plastic sandals, auto parts, electrical appliances, as well as thermoplastic elastomers. Because Sinopec PVC resin S-1300 has higher viscosity than the general S-1000 PVC resin, its processing technology and mixing ratio are different. What's more, the properties of transparent sheets and salt films prepared with polyvinyl chloride resin S-1300 meet the requirements of relevant indicators. We can supply Sinopec S-1300 PVC resin suspension.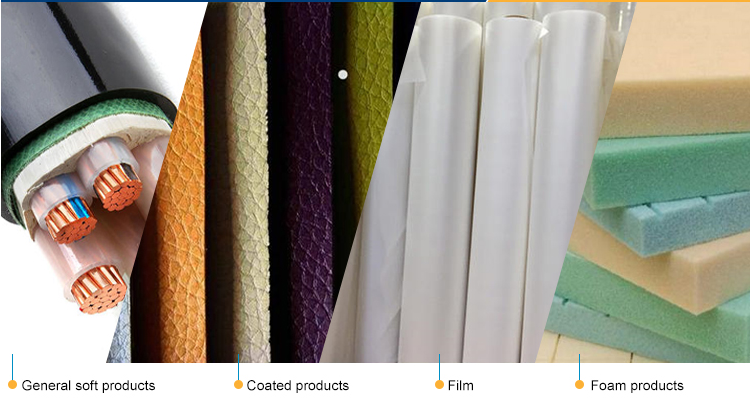 Application in cable material. The molecular weight distribution of PVC resin are required to be more suitable for the needs of high-end cables. The mechanical properties of the cable material produced by S-1300 are better. Although the dielectric strength of S-1300 is slightly lower, it is still greater than the index requirements of insulating cable materials. So it will not affect its use in insulating materials.
Application in transparent flexible board. There are a wide variety of PVC soft boards on the market, such as door curtains, tablecloths, rain strips for car doors and windows, etc. The transparent soft board produced by S-1300 has smooth surface, good transparency, no pitting, and fewer crystal points. The light transmittance, haze and yellow index of S-1300 transparent flexible board are better than the enterprise index. Meanwhile, it has better mechanical properties.
Application in thin films. PVC film products mainly contain agricultural film, calendered film and heat shrinkable film. Among them, heat shrinkable film is mainly produced with S-1000 type PVC, while S-1300 PVC resin are for agricultural film and calendered film. The calendered film made of S-1300 and DOP plasticizer has the characteristics of high mechanical strength, good toughness, alkali resistance and exposure resistance, so its service life is more than 3 years.
Grade
PVC S-1300
Remarks
Item
Guarantee value
Test method
Average polymerization degree
1250-1350
GB/T 5761,Appendix A
K value 71-73
Apparent density, g/ml
0.42-0.52
Q/SH3055.77-2006, Appendix B
Volatiles content (water included), %,           ≤
0.30
Q/SH3055.77-2006, Appendix C
Plasticiser absorption of 100g resin, g,          ≥
27
Q/SH3055.77-2006, Appendix D
VCM residue, mg/kg                                         ≤
5
GB/T 4615-1987
Screenings %
2.0 
2.0
Method 1: GB/T 5761, Appendix B
Method 2: Q/SH3055.77-2006,
Appendix A
95 
95
Fisheye number, No./400cm2,                        ≤
20
Q/SH3055.77-2006, Appendix E
Number of impurity particles, No.,                ≤
16
GB/T 9348-1988
Whiteness (160ºC, 10 minutes later), %,      ≥
78
GB/T 15595-95
(1) Packing : 25kg net/pp bag, or kraft paper bag .
(2) Loading quantity : 680Bags/20'container, 17MT/20'container .
(3) Loading quantity : 1000Bags/40'container, 25MT/40'container .
---
Previous:
Polyvinyl chloride resin S-1000
---