Polyvinyl chloride pipe grade
Product Detail
Product Tags
Polyvinyl Chloride (PVC) is a linear thermoplastic resin produced by polymerization of vinyl chloride monomer. Due to the differenceof raw materials, there are two methods of synthesizing vinyl chloride monomer calcium carbide process and petroleum process. Sinopec PVC adopts two suspension process, respectively from Japanese Shin-Etsu Chemical Company and American Oxy Vinyls Company. The product has good chemical corrosion resistance, excellent electrical insulation property and fine chemical stability. With high chlorine content, the material has good fire retardance and self-extinguishing properties. PVC is easy to process by extrusion, injection molding, calendering, blow molding, compressing, cast moulding and thermal molding, etc.
PVC is one of the most widely used thermoplastic resins. It can be used to make products with high hardness and strength, such as pipes and fittings, profiled doors, windows and packaging sheets.
It can also make soft products, such as films, sheets, electrical wires and cables, floorboards and synthetic leather, by addition of plasticizers.
Pvc resin pipe grade is widely used in drainage pipe,irrigation pipes,bellows,sewer pipes, threading pipe production.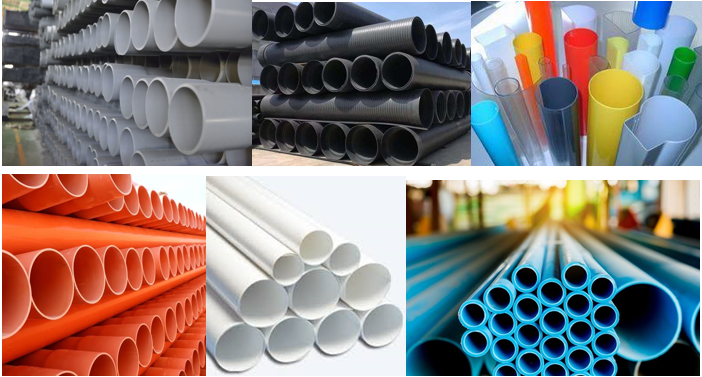 Grade
PVC QS-1050P
Remarks
Item
Guarantee value
Test method
Average polymerization degree
1000-1100
GB/T 5761,Appendix A
K value 66-68
Apparent density, g/ml
0.51-0.57
Q/SH3055.77-2006, Appendix B
Volatiles content (water included), %,     ≤
0.30
Q/SH3055.77-2006, Appendix C
Plasticiser absorption of 100g resin, g,   ≥
  21
Q/SH3055.77-2006, Appendix D
VCM residue, mg/kg        ≤
5
GB/T 4615-1987
Screenings %
2.0 
2.0
Method 1: GB/T 5761, Appendix B
Method2: Q/SH3055.77-2006,
Appendix A
95 
95
Fisheye number, No./400cm2,                ≤
20
Q/SH3055.77-2006, Appendix E
Number of impurity particles, No.,          ≤
16
GB/T 9348-1988
Whiteness (160ºC, 10 minutes later), %,≥
80
GB/T 15595-95
(1) Packing : 25kg net/pp bag, or kraft paper bag .
(2) Loading quantity : 680Bags/20'container, 17MT/20'container .
(3) Loading quantity : 1000Bags/40'container, 25MT/40'container .
Formular Suggestion For Pvc Pipe
Formular 1:
PVC 100kg
Heavy Calcium 250kg
Light Calcium 50kg
Stearic Acid 2.4kg
Paraffin 2.6kg
CPE 6kg
Lead Stabilizer 5.0kg
Formular 2:
PVC 100kg,
Heavy Calcium 200kg,
Synthetic Heavy Calcium 50kg,
Composite Lead Stabilizer 5.6kg,
Stearic Acid 1.8kg,
Paraffin 0.3kg,
CPE 10kg,
Titanium Dioxide 3.6kg.
Formular 3:
PVC 100kg
300 Mesh Heavy Calcium 50kg,
80 Mesh Heavy Calcium 150kg,
Stearic Acid 0.8kg,
Paraffin 0.55kg,
Composite Lead Stabilizer 4-5kg,
CPE 4kg
Formular 4:
PVC 100kg
Heavy Calcium 125kg
Light Calcium 125kg
Stabilizer 6.2kg
Paraffin 1.5kg
Stearic Acid 1.3kg
Titanium Dioxide 4kg
CPE 10kg
PE wax 0.3kg
Brightener 0.03kg
Formular 5:
PVC 100kg
Stearic Acid 1.0kg
Paraffin 0.8kg
Lead Stabilizer 4.6kg
Heavy Calcium 200kg
Formular 6:
PVC 100kg
Light Calcium 25kg
Lead Stabilizer 3.5kg
Mono Glyceride 1.1kg
PE wax 0.3kg
Stearic Acid 0.2kg
ACR (400) 1.5kg
Paraffin 0.35kg
Titanium Dioxide 1.5kg
Ultramarine 0.02kg
Brightener 0.02kg
---
Previous:
Shandong Sinopec Qilu PVC Resin
---