Introduction: On July 15, PVC prices fell to the lowest point so far in the year, then PVC futures bottomed out and rebounded, the market pessimism was digested, PVC spot prices increased, driving the enthusiasm of the downstream to take goods, the overall market trading situation is good. However, next week's demand orders are limited, after nearly half a month's rise, PVC digestion is limited, the inventory remains high. In addition, the price in the international market fell in August, and the supply of goods in the Asian market increased, which impacted the domestic market. The PVC shipment pressure increased, and the price fell again.
yuan/MT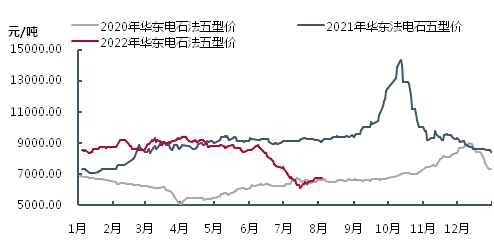 In August, the domestic PVC price fluctuated lower, the macro support weakened, and the fundamentals continued to be weak. Although the downstream construction has been improved, the overall construction is still less than 50%. Moreover, the product orders are limited, and the support for PVC is insufficient, and the market transaction center is low. Up to now, the PVC price in East China has dropped by about 300 yuan/ton compared with July, and the downstream pickup has been delayed, and the overall market transaction situation is poor.
Supply:
Domestic supply: Recently, domestic PVC supply has little fluctuation. Longzhong data show that the current PVC production enterprises have started work at 75.26%. There are still some enterprises with maintenance plans and load reduction performance in the near future, but the PVC production enterprises will finish centralized maintenance next week. In terms of inventory, PVC factory inventory and social inventory have increased in varying degrees.
Import: Recently, the supply side continues to be loose due to the increasing supply of goods from the United States, the obvious price advantage and the open import window.
Demand side:
Domestic demand: The current demand is still in the slack season, a small number of enterprises started slightly increased, the hard goods industry started low, soft goods started relatively OK. However, the overall construction of pipe profile is still maintained below 50%, downstream enterprises said that although the recent real estate market policy intensive good, but the policies and funds did not land before, it is difficult to have orders, the current real estate market construction off-season, product enterprises stocking intention is insufficient, and order maintenance light.
Export market: The export of PVC from the United States to India, the main export area of China, is increasing. In the past week, the export volume of PVC from the United States to India has reached more than 10,000 tons, which is expected to arrive in October to the first half of November. Chinese source export pressure increased.
Overall, the current supply is loose, late need to pay attention to PVC cost pressure, marginal enterprises start changes, and import volume changes; The demand side remains weak for now, with limited improvement expected in mid-early August and a focus on downstream order changes in the second half of the month.
---
Post time: Aug-08-2022